Although formal learning is the most important enterprise at Reid State Technical College (RSTC), the college recognizes the valuable learning and growth in students also occur through nonacademic activities. As a RSTC student, you will be encouraged to participate in the nonacademic activities designed to help you develop intellectually and socially. You will interact with fellow students, faculty, and other staff members to improve your communication and leadership skills. RSTC offers a wide variety of cultural, recreational, political, and entertainment experiences for every student to find something appropriate to his or her needs.

Student Government Association
The Student Government Association (SGA), a body of student representatives and officers elected by the students, is the coordinating body for all student activities approved by the college. Its purpose is to foster your interest and involvement in all aspects of college citizenship and to encourage your involvement in important decisions affecting students so that the general welfare of the College is improved.
The Reid State Technical College Student Government Association is involved in and concerned with the operation of Reid State, and its members provide a valuable communication link between faculty and administration and the student body. The SGA is also responsible for assisting with graduation ceremonies, college events, campus tours and recruiting.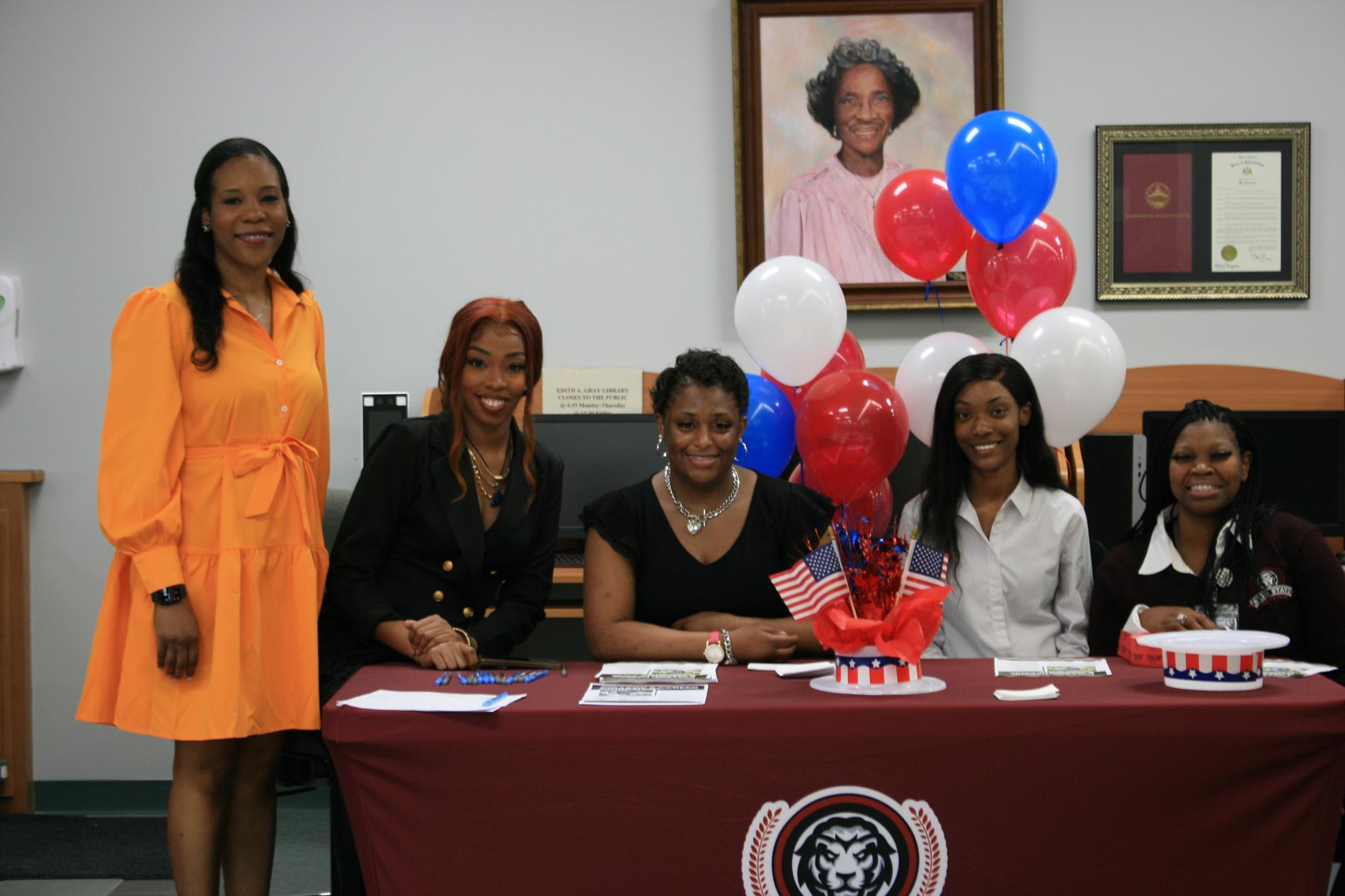 The officers of the SGA are elected annually during Fall semester and consist of the following: President, Vice-President, Secretary, and Treasurer. 2022-2023 SGA Officers with Dr. Coretta Boykin, President of Reid State Technical College.
Reid State Technical College provides opportunities throughout the academic year for students to participate in student organizations and enrichment activities outside of classroom instruction which help enhance the overall college experience. These student activities include Softball Game in the Park, Blue Bell Ice Cream Treat, Basketball Game at the City Gym/ Holiday Lunch, Pizza/Karaoke Day, Movie Day, Christmas - Toys for Tots, Thanksgiving - Can Good Food Drive, Spring Fling, Iron Bowl Day and Student Activity Day.
Reid State Technical College (RSTC) also promotes scholastic and community achievement, as well as leadership development through student participation in Student Government Association, National Technical Honor Society, All-USA Community and Junior College Academic Team. Students are also recognized for their academic and lab achievements during an Awards/Honors Day Ceremony held each academic semester.
Awards Day
Each semester Reid State Technical College honors students who made the President's and Dean's List during an awards ceremony. Also, most outstanding students from each program are recognized. Door prizes are given away to students who hold the winning ticket.
Blood Drive
The Student Government Association (SGA) officers and Representatives sponsor a blood drive each semester to help save lives.
Christmas
This special time of the year evokes many warm feelings and desires. The SGA delivers gifts to the Human Resources Department for the Toys for Tots campaign to honor those less fortunate children. Behind all of these celebrations is the true meaning of Christmas.
Halloween
Spooky, kooky, creepy, and fun! At Reid State Technical College Halloween is the time of Ghosts, Goblins, Gravestones and Graveyards. Our students enjoy fun spooks and spirits, and a variety of treats and silly fun.
Softball Game
The faculty and students have a "ball competing against fellow departments in softball games at the Evergreen Municipal Park. Refreshments provided for the students during the game.
Thanksgiving Food Drive
RSTC SGA Officers & Representatives sponsor a Thanksgiving Canned Goods Food Drive. Canned goods are distributed to the needy in the community.